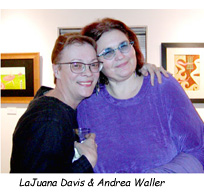 Andrea Waller opened Seaport Yarn in New York City in 2002. Starting with a small inventory in one room, she has built Seaport Yarn into one of the largest yarn stores in Manhattan.

Knitters from all over the world have found their way to Seaport Yarn in New York and enjoyed the incredible variety of yarns and knitting products available there.
LaJuana Davis opened Seaport Yarn Online in Portland, Maine in 2005. We strive to offer great yarns and knitting products, courteous service and an easy, secure online shopping experience with fast shipping.

See what our customers have to say about us.