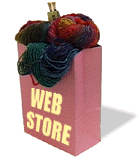 Click here for Web Store.
STORE LOCATION
181 Broadway
Fourth Floor
New York, NY 10007


(212) 220-5230
1-800-347-2662

STORE HOURS

Welcome to Seaport Yarn
Your exclusive source for premium yarn, needles, books,
patterns and knitting supplies!


• Ella Rae Yarns - Amity, Bamboo Silk, Baby Cotton, Superwash
• Mirasol Yarns - Akapana, Miski, Nuna
• On Line Yarns - 85 Smash, Flair Elegance, Supersock Silk
• Queensland Collection - Rustic Tweed, Kathmandu Aran
• Southwest Trading Co. - Saphira, Tofutsies, Yin, Yang

We also stock your favorites from:

• Brown Sheep • Debbie Bliss • Katia • Mission Falls
• Ornaghi Filati • Plymouth • Sirdar • Sublime and many more

SPECIALS
• See our Specials page and save!

NEW!
• Customer Testimonials
• Patterns and Pics

Shop Online: Click on the Web Store Shopping Bag to browse and buy your favorite yarns and knitting supplies online! See our low prices, online specials and extensive selection.